If you went up to a random person on the street and asked them if they could name a f
olk metal band
, most of them would look at you like you have four heads. However, f
olk metal
is one of metals fastest growing sub-genres. Its popularity is growing among Metalheads all around the world but especially in Europe. It is one of the most unique types of metal ever to come onto the scene combining
traditional folk instruments
with other metal sub-genres such as black metal, death metal, and even
symphonic metal.
Folk metal can be traced back to the early 90's when in 1991, Skyclad released their debut album,

The

Wayward Sons

Of

Mother Earth,

which featured the song,

The Widdershins Jig

on it which could very possibly be the first

Folk Metal song

. After that, other bands started adding their own cultural sound to the newly formed genre. Bands like Cruachan and

Mago de Oz

were a few of the first bands in the Celtic Metal sub-genre which is a form of Folk Metal. Other bands like

Subway To Sally

took the genre a different route though and are credited with being the first medieval metal band. At that point it was not well known, even with some of the most die hard metalheads. It was not until the new millennium when bands like

Korpiklaani

, Eluveitie, Finntroll, and others came onto the scene and made it more well known.
Eluveitie
A new popularity wasn't the only thing that the new millennium brought with it for Folk Metal. Before there was only a few different kinds of folk metal but it exploded with different sub-genres like pirate metal, Samurai metal, and the one that became the most widely popular,
viking metal
. In the scene today you can find many bands that identify themselves with it such as Tyr,
Falkenbach
, and Manegarm. Other bands who got stuck with the label wanted no part of it like Ensiferum or
Amon Amarth whos vocalist
,
Johan Hegg
, has been quoted as saying "We play
death metal
. We write about vikings so, therefore, some refer us to viking metal, but I have no idea what that is. I can't imagine the vikings veer into metal at all except on the swords and stuff. And musically, I guess they only played these strange lip instruments and some bongos or whatever".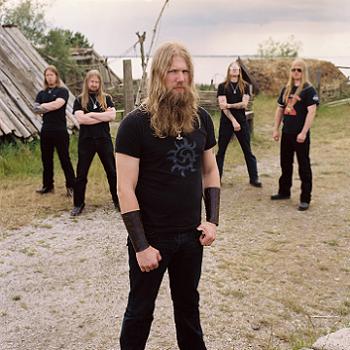 Just like they do with the music, many folk metal bands take influence from their own culture and legends in what they wear. For example, Turisas (The band shown at the top of the article) wears face and body paint that is used to be like battle paint. Many bands are using clothes like this to try and appeal to the people who love the whole folk metal feel even more.
Even though Folk Metal has become the most popular in Scandinavian and other European countries it seems like that popularity is starting to spread around the world. For example, Paganfest I was the first specific Folk Metal tour to come to North America which had a positive response. Also, North American bands such as Blackguard and Agalloch who have strong folk metal influence in their music are helping to spread the sub-genre to places were most people still have never heard of it.
So, if after reading this article you find yourself interested in listening to folk metal and want recommendations, confused, angry, or really anything, drop us a comment down bellow and one of us will be glad to help you out.